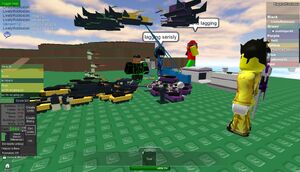 PLEASE NOTE THAT THERE IS FULL WIKI WITH EVEN MORE INFORMATION AT THIS LINK HERE.Edit
Welcome to the Roblox: The Conquerors 3 Site
Edit
This wiki is about a game on Roblox, "The Conquerors 3", by Hathelper. This is a Military type game and takes a while to finish. This wiki is unofficial. Hathelper nor Roblox published this wiki. Sadly HatHelper's account was banned and stopped updating on his old account unfortunately after making a new account named "Aklan" according on his account he has said "Roblox is this hasn't been confirmed yet although there are rumors being said that his really left Roblox. After a while, Alkan came back to work on it on his account called BrokenBones, naming his game, The conqueror's mark 3.
Talk about The Conquerors 3
Edit
Ad blocker interference detected!
Wikia is a free-to-use site that makes money from advertising. We have a modified experience for viewers using ad blockers

Wikia is not accessible if you've made further modifications. Remove the custom ad blocker rule(s) and the page will load as expected.